Introduction
A submersible sludge pump, on one hand, is a specialized pumping solution designed to handle heavy-duty applications involving the transfer of sludge, mud, and other viscous materials. On the other hand, these pumps operate underwater, enabling efficient and reliable pumping in challenging environments. In Pakistan, submersible sludge pumps are widely used across various industries, such as wastewater treatment plants, construction sites, mining operations, and dredging projects.
Let's take a closer look at the key features and benefits:
Firstly, submersible sludge pumps boast a robust construction that allows them to withstand the harsh conditions encountered during sludge pumping. Moreover, they are engineered to handle abrasive and corrosive materials without compromising performance.
Secondly, their submersible design eliminates the need for priming and ensures continuous pumping without the risk of cavitation. As a result, these pumps can operate directly in the sludge or mud, providing efficient solids handling capabilities.
Thirdly, submersible sludge pumps excel in handling high concentrations of solids. Thanks to their large impeller passages and wide openings, they prevent clogging and enable the smooth transfer of thick sludge.
Furthermore, these pumps offer versatility through a range of sizes and power capacities, making them suitable for various applications. Whether it's dewatering a construction site, removing sludge from a wastewater treatment plant, or dredging a water body, there's a submersible sludge pump to meet the specific needs of the task at hand.
In terms of maintenance, many submersible sludge pumps in Pakistan are designed with easy maintenance in mind. They often feature removable strainers and easy access to internal components, simplifying inspection and cleaning processes.
Lastly, submersible sludge pumps provide a cost-effective solution for handling sludge and mud. Their efficient pumping capabilities minimize project downtime, increase productivity, and reduce maintenance and repair costs, making them an economically viable choice.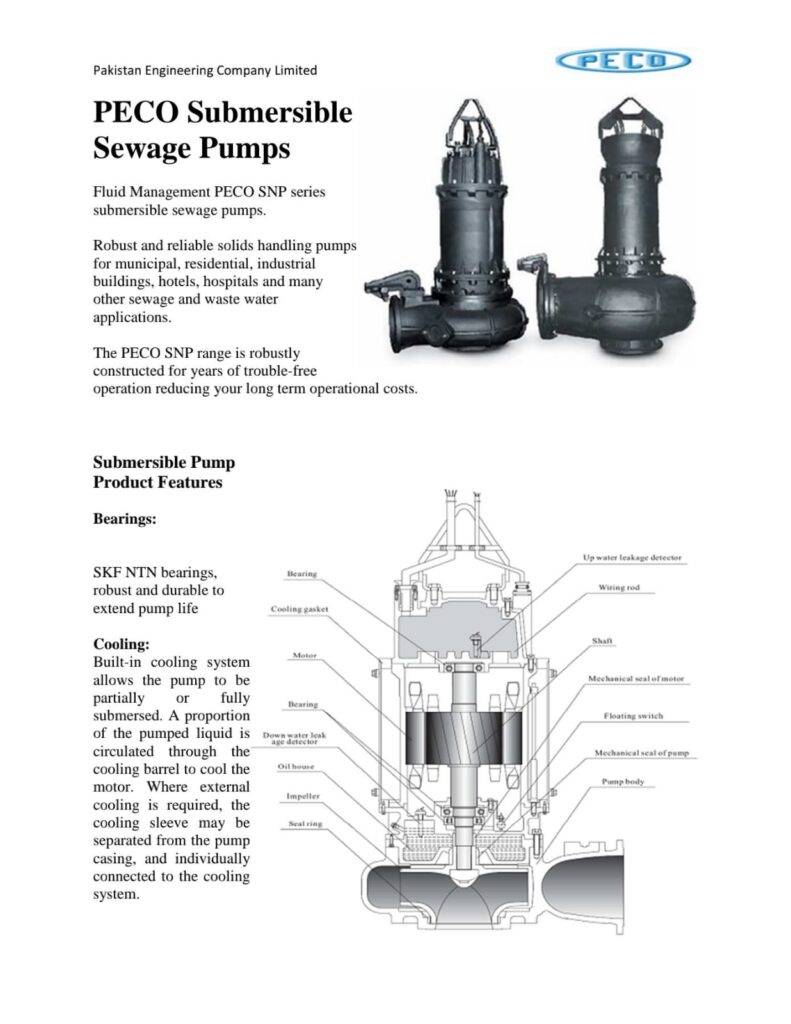 SUBMERSIBLE DRAINAGE PUMP
SUBMERSIBLE SEWAGE PUMP
SUBMERSIBLE WASTE WATER PUMP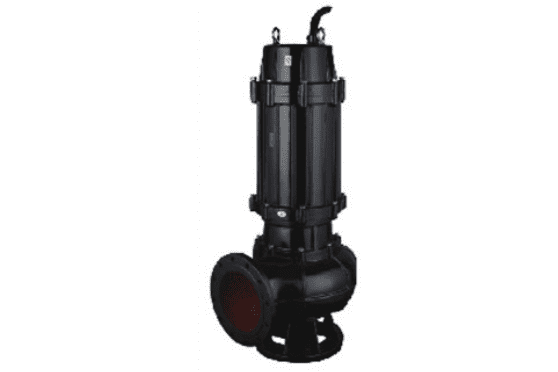 PECO Submersible Sewage pumps
Fluid management SNP series submersible sewage pump.
Robust and reliable solid handling pumps for municipal, residential, industrial buildings, hotel, hospital and many other sewage and waste water application.
The SNP range is robustly constructed for years of trouble-free operation reducing your long term operational cost.
SKF NTN bearings, robust and durable to extend pump life.
Cooling:
Built in cooling system allows the pump to be partially or fully submersed. A proportion of the pumped liquid is circulated through the cooling barrel to cool the motor. Where external cooling barrel is required, the cooling sleeve may be separated from the pump casing, and individually connected to the cooling system.
Motor:
Insulation class F/ H Maximum working temperature 185 Degree C.IPX8 protection with seal.
Mechanical Seal:
Double mechanical seals to protect motor. Tungsten carbides/tungsten carbide on pump side.
Graphite/silicon on motor side.
Oil Chamber:
Mechanical seals are oil lubricated to prevent liquid penetration into motor.
Impeller:
Optimized design to handle various liquids with maximum efficiency. Single blade, dual blades and three blades available.
Casing:
Using CAD/CAM design to maximize efficiency and minimize wear.
Shaft:
The shaft has been designed to be as short as possible, reducing deflection and vibration. This extend the life of the mechanical seals, bearings and reduces operational noise.
Monitoring System:
Three heat control switches are embedded in the stator. These are activated should the stator temperature exceed 125 degrees C.
The water leakage probe is mounted inside of the oil chamber. Should the oil water ratio reach a pre-determined ratio a warning signal will be activated, and the pump switched off.(The oil in the chamber should be replaced at regular service intervals.)